By Dispatch Editors on Monday, December 20th, 2021 at 10:06 am
Vegan donut maker Dun-Well Doughtnuts is celebrating their ten-year anniversary.
The vegan donut shop opened in 2011 quickly running up accolades, landing a spot on the Village Voice's 2012 list of best donuts in the city.
The majority of the donuts are yeasted, although most days there is at least one cake donut available of rotating flavors. Flavor is what sets Dun-Well apart with unique flavor combinations on the base. From fruity icing to more adventurous pairings like raspberry and matcha to unconventional donut flavors like rosemary.
The peanut butter and jelly donut helped put Dun-Well on the map, and they offer a variety of filled donuts too. The cream filled donuts are also vegan.
The flavor selection changes by the day, and the shop posts the flavors to their instagram.
Through the pandemic, Dun-Well remained open serving food to go even as other local coffee shops like Cup closed or reduced hours.
Before the pandemic, the shop served as an all-in-one neighborhood meeting place with an onsite printing, a little free library, and spacious seating areas.
Below, the chocolate peppermint cake donut available during the Christmas season.
Here are a few more delicious donut pictures: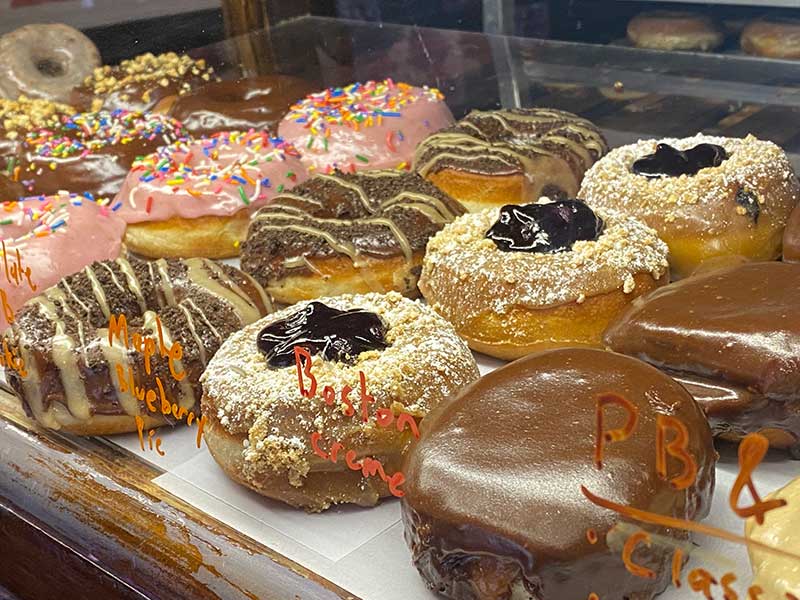 Dun-Well Doughnuts
222 Montrose Avenue
Website
---